Aircraft Management Services
Private Jet and Aircraft Management Services
Legacy Jets Aircraft Management Services are designed to put you, the owner, first.
Our exclusive Jet aircraft management system is designed to maximize revenue without maximizing hours.  Your airplane will remain your airplane and will only fly as much or as little as you want.  Our software can create a plan that fits your personal or business flight schedule and prioritizes flights accordingly so you're not left flying on someone else's plane all the time instead of your own.
Legacy Jets is an FAA certificated air carrier.  We can offset the cost of owning a plane while offering you the convenience of full service aircraft management.
Our exclusive agreements are clear and lay out exactly what your costs will be.  No hidden charges, no hundred dollar napkins, no unjustified markups for maintenance.
We will treat your airplane as well as if it were our own.  All maintenance and flight crews receive the highest level of training in the industry so as to ensure the highest level of safety and quality of service.  Our maintenance tracking software automatically schedules required and preventative maintenance to reduce down time and  fully integrates with our scheduling software to eliminate surprises.
When you fly on your aircraft you are treated with the highest priority and customer care to ensure your experience is the best in the industry.  Concierge services are available to assist in your travel planning to eliminate the hassles.  After all, this is why you own a plane.
For owner pilots we have a staff of highly experience instructors specializing in your aircraft and we can coordinate your training, currency, and insurance requirements.  We will even fly with you when necessary.
Give us a call and find out why Legacy Jets aircraft management services is going to offer you the best full service aircraft and jet management services available.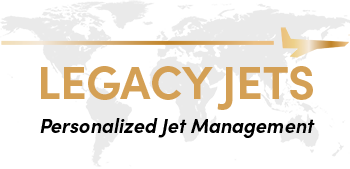 Private Jet Management and Air Charter service
Scottsdale, AZ and West Palm Beach, FL
480-256-9222
Private Jet Management and Air Charter service
Scottsdale, AZ and West Palm Beach, FL
480-256-9222